MAPA PARA CONVERSAR (MAP TO TALK)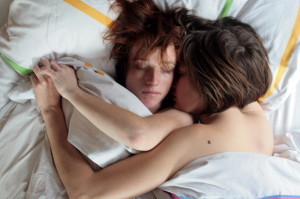 MAPA PARA CONVERSAR (MAP TO TALK). Directed by Constanza Fernandez. Chile. 2011. 81 min. Spanish with English subtitles.
In Roberta's dream, she is trudging through the streets of Santiago, Chile carrying her bed on her back, having lost everything. In reality, she has a young son; an ex—the boy's father—who still adores her; a girlfriend, Javiera, who operates a "post pornography" website; and among other family members, a mother, Ana, whose disapproval she's come to expect. When she comes out to her mom, the older woman's reaction is predictably negative, which only encourages Roberta to bring her mother and her girlfriend together on a day-long sailing trip.
Trapped together on the open water, the three women have no choice but to talk to one another, even as they discover just how impossible communication sometimes is. Gorgeously shot, briefly erotic, writer/director Constanza Fernández's intimate drama touches on many things, including the challenges of coming out in a repressive society, the politics of sexual representation, and Chile's dark history and the tragic legacy of its "desaparecidos." Mostly it is about the difficulty of relationships, whether between lovers or parent and child; how easy it is to hear but how hard it is to listen; and how difficult it is to understand and be understood. Roberta opens a Pandora's box with this voyage, as the woman who demands honesty from her lover and her mother finds out how hard it is to be honest, even with herself.
Thursday, May 9th, 9:00 PM
BRATTLE THEATRE
PURCHASE TICKETS