THE SECRET DISCO REVOLUTION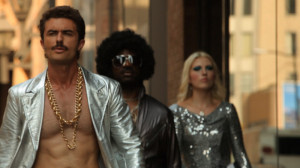 THE SECRET DISCO REVOLUTION. Directed by Jamie Kastner. Canada. 2012. 84 min. English.
Disco. Whether you love it or hate it, it was an undeniably massive cultural phenomenon, offering heady dance-floor escapism — and some priceless polyester outfits. But beneath the reverberating vocals, frenetic strobe lights and four-on-the-floor beat, there was a neon epiphany waiting to emerge.
In THE SECRET DISCO REVOLUTION, director, satirist and comic provocateur Jamie Kastner offers a humorous and insightful investigation into the much-maligned genre, taking up the claim by academic revisionists that disco was in fact a misunderstood culture of protest and a movement of mass liberation for some of American society's most marginalized citizens: women, African-Americans, and gay men. Could disco enthusiasts actually have been unwitting foot soldiers in a glittering social revolution?
Friday, May 10th, 7:00 PM
 BRATTLE THEATRE
Website

This program is co-presented by Fur and Gold. Join us after the film for the party at the Alley Bar
14 Pi Alley Boston MA 02108 +1 617.263.1449 10:00pm – 2:00am

PURCHASE TICKETS