CHUPPAN CHUPAI (HIDE AND SEEK)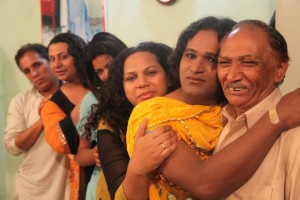 CHUPPAN CHUPAI (HIDE AND SEEK). Directed by Saad Khan and Saadat Munir. Denmark/Pakistan. 2013. 67 min. Urdu with English subtitles.
The film shows the secret, yet open lives of a group of Pakistani sexual minorities, raising questions about trans-gender activism, religion, underground gay life, social acceptance and collective familial customs of trans-genders in urban Pakistan. The film follow Neeli Rana: a trans-gender activist, whose courage and persistence made the apex court of Pakistan to grant basic civil rights in favor of "the third gender". Kami: a fearless and flamboyant boy, who dares to speak about his out gay life criticizing those who live with a secret. Waseem: a veteran dancing boy, who struggles with his sexuality and chooses to denounce it due to familial pressure and Jenny: a transgendered and a recently castrated college student who bitterly regrets her transition.
Director will be in attendance.
Saturday, May 11th, 4:00 PM
PURCHASE TICKETS
This program is co-presented by the Massachusetts Transgender Political Coalition and Fenway Institute Life Skills