THE LOVE PART OF THIS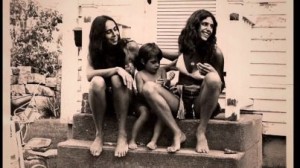 THE LOVE PART OF THIS. Directed by Lya Guerra. Norway, USA. 2012. 83 min. English. 
In the early 1970′s, Grace Schrafft and Grace Moceri left their respective husbands with their infant children in tow to be together. Grace Moceri is the responsible one, the one who makes sure the bills are paid and the doors are locked. Grace Schrafft is the free spirit that everyone in town knows and loves. The two Graces are deeply rooted in their hometown of Gloucester, Massachusetts.
Grace and Grace made a life together for 37 years. The Love Part of This explores their meeting, their ensuing love and their struggles being a couple. The Graces share their stories, both separately and together. We also hear from an ex-husband, their two children, the town pastor and a family friend.
During filming, life takes an unexpected turn. The footage becomes an uncanny document, as all the words about their lives together take on a finite quality. THE LOVE PART OF THIS is a heartbreaking, funny and extremely moving document of life and love in our times. Winner of Best Documentary Feature at the 2013 Torino LGBT Film Festival.

Saturday, May 11th, 2:00 PM
Website
U.S. PREMIERE
This program is co-presented by the LGBT Aging Project and Go Out Loud.
PURCHASE TICKETS