Opening Night at the Museum of Fine Arts, Boston: May 3rd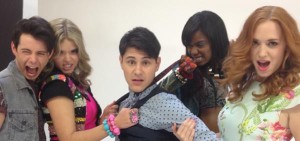 Please join us Friday, May 3rd for our Museum of Fine Arts Opening Night. 7:30 PM
We'll be screening the New England premiere of Darren Stein's (JAWBREAKER, PUT THE CAMERA ON ME) new film G.B.F. (GAY BEST FRIEND) straight from its World Premiere at the Tribeca Film Festival where it screened to sold out audiences.
After screening party TBA.
G.B.F. (Gay Best Friend) Directed by Darren Stein. USA. 2013. 92 min. English
The bitter fight for supremacy between a school's most popular girls takes an unexpected turn when Tanner (Michael J. Willett) becomes its first openly gay student. As they race to bag the big trend in fashion accessories, the Gay Best Friend, Tanner must choose between skyrocketing popularity and the friends he is leaving behind. Darren Stein (Jawbreaker) returns with another comic send-up of high school clique culture, including memorable cameos by Megan Mullally and Natasha Lyonne.
 PURCHASE TICKETS