CLIMBING WITH PRIDE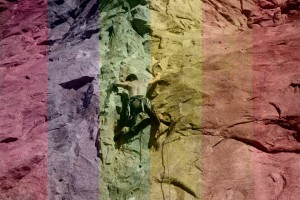 CLIMBING WITH PRIDE. Directed by Brian Spiegel. USA. 2012.60 min. English
The 2012 Homo Climbtastic convention, the largest group of gay rock climbers in the world, allowed a film crew to document their event. This is the intersection of climbing and queer culture. An interesting accepting, and fun group of amazing climbers and people. We discover why the convention has grown from six people, six years ago, to over a hundred this year. What is the draw of a gay rock climbing convention and why was it started? Interviewees include; Alex Rowland, the founder of the group, Chris Powell, the second member of the group, pro rock climbers, Mike Abell and Madeleine Sorkin, and many other crazy good climbers. The film also includes an interview from Coy Flowers, the president of fairness West Virgina, and locals to the West Virginia town of Fayetteville that hosts the convention every year.
Sunday, May 5th, 3:00 PM
THE FILM SCREENS AS PART OF THE SPORTS SHORTS PROGRAM.
Website
PURCHASE TICKETS