G.A.Y. (GOOD AS YOU)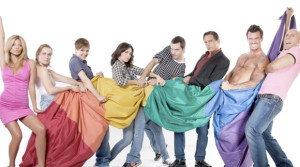 G.A.Y. (GOOD AS YOU). Directed by Mariano Lamberti. Italy. 2012. 83 min. Italian with English subtitles
Eight characters (four men and four women), are destined to cross paths on New Year's Eve in Rome. With alcohol and a romantic atmosphere playing their part, assisted by a sudden black out during the toast, the eight friends will find themselves caught up in unexpected confessions, revealed secrets and impulsive decisions that will reignite overwhelming (as much as unlikely) passions. Dawn will thus salute four couples rapturously passionate and… ready to explode like a pressure cooker, with betrayals and setbacks already looming on the horizon.
Sunday, May 12th, 3:00 pm INSTITUTE OF CONTEMPORARY ART
Website

PURCHASE TICKETS