WILDNESS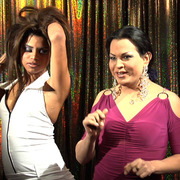 WILDNESS. Directed by Wu Tsang. USA. 2011. 73 min. Spanish and English with Spanish and English subtitles.
WILDNESS is a portrait of the Silver Platter, a historic bar in the MacArthur Park area that has been a thriving part of the Latin/LGBT immigrant communities since 1963. Chronicling what happens to the bar when art student, Chicago transplant and director Wu Tsang falls in love with the bar and sets up a weekly dance/performance art party, it raises the questions of how popular is too popular? What happens when the safe spaces in our community start to go mainstream?
Throughout the film we see the bar struggle with success as the clientele start to move away from its Latino working class, immigrant and transgender base towards a more hipster flavored audience that doesn't always respect the original community and family aspect of the bar. As media outlets start covering the immensely popular party, the new attention on the bar brings increased police surveillance and some of the regular girls of the bar are deported.
Inspired by narrative documentaries such as Marlon Riggs's Tongues Untied and Charles Atlas's Hail the New Puritan director Wu Tsang decided at that moment to utilize his previous organizing experience and film it. The film shows what can happen when such a precious safe space is threatened by gentrification and its own growing popularity. Full of love, energy, pathos and community, Wildness in essence is the love story between a young, idealistic queer person in search of something and the magical bar that takes him in and helps him grow up.
Sunday, May 5th, 3:00 pm
Website
PURCHASE TICKETS