WILL YOU STILL LOVE ME TOMORROW?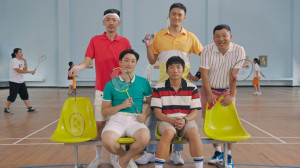 WILL YOU STILL LOVE ME TOMORROW. Directed by Arvin Chen. Taiwan. 2013. 104 min. Mandarin with English subtitles.
Straitlaced optometrist Weichung is finding the typical married life difficult, as his wife, Feng, unfulfilled by her white-walled office job and spurred on by her mother, pushes him for a second child. Then he bumps into an old friend from his gay past, setting off an unexpected array of dormant emotions. Meanwhile, his sister Mandy flees her sad sack fiancé San-San, coping via comfort food and the fantastical appearance of a soap opera star on her couch. Arvin Chen's sophomore feature is a fresh and playful comedy about the brave fronts put forward in the search for a satisfying family life and job.
Whimsy is never far from this story, both through the appropriately sappy soundtrack and several dream-like touches: not just a soap opera star, but one character whose retirement is symbolized by his magical floating away on an umbrella and a breakout karaoke sequence reinforced by the title Shirelles song. Outstanding performances by Richie Ren and singer Mavis Fan as the central married couple help Chen find a true emotional core, especially in the heartrending moment when Feng realizes the truth about her husband's dalliances, inspiring a charming look at what happens in a traditional society when you seek a big change.
Sunday, May 12th, 4:30 PM
PURCHASE TICKETS