Opening Night Film and Award Ceremony
Thursday, April 3rd. Institute of Contemporary Art. Direct from its world premiere at the Sundance Film Festival we are very pleased to bring you TO BE TAKEI. Special guests in attendance. Film is preceeded by a VIP reception. The First Annual George Mansour Award will be presented prior to the film to George Mansour, the founder of the Boston LGBT Film Festival.
TO BE TAKEI. Directed by Jennifer M. Kroot. Editor and Co-Director Bill Weber. 2014. USA. 90 min.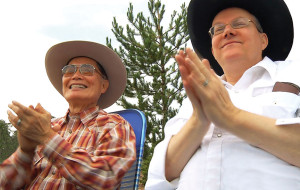 George Takei doesn't shy away from digging into his remarkable career and personal life in Jennifer Kroot's delightful and incisive film To Be Takei. As a child forced into Japanese-American internment camps, the actor-turned-activist reveals the ways that racism affected him well into his early acting career, where he played stereotypical Asian stock characters in film and television shows. Even after landing the iconic role of Hikaru Sulu on Star Trek, Takei's sharp eye, coupled with his wicked sense of humor, continued to challenge the status quo well into the twenty-first century.
Now at 76, nine years after formally coming out of the closet, Takei and his husband, Brad, have become the poster couple for marriage equality, highlighting homophobia through television interviews and hilarious skits, many of which have gone viral and garnered widespread attention. Whether dishing on William Shatner or parodying the now-infamous comments made by Tim Hardaway, Takei proves time and again why his presence in popular culture remains as fresh and necessary as ever.—Sundance Film Festival
Opening Night Film is co-presented by Dyke Night. Editor and Co-Director Bill Weber will be in attendance.

Tickets may be purchased 24 hours a day online at
www.BOSTONLGBTFILMFEST.org