Digital Diaspora Roadshow
April 12th
Immediately following the screening of THROUGH A LENS DARKLY we'll be presenting the ROADSHOW. Approx 3:30 pm
Riley Seminar Room
Museum of Fine Arts, Boston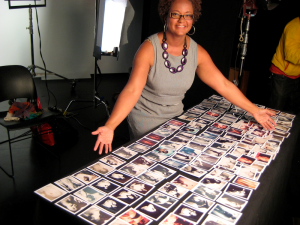 We are very excited to be presenting Thomas Allan Harris' film THROUGH A LENS DARKLY and the Digital Diaspora Family Reunion Roadshow, April 12 at the MFA.
The film and Digital Diaspora Roadshow encourage the revaluation of the family archive as historical records which illuminate, inform and expand our understanding and shared values as members of a common culture – the One World, One Family of Humanity. Digital Diaspora Roadshow comes to the Boston LGBT Film Festival to celebrate the diversity in our communities and our families. 
Do you have LGBT ancestors or relatives in your family album?  After screening of THROUGH A LENS DARKLY, festivalgoers — LGBT and their allies — can bring their photos to Riley Seminar Room to participate in a special live event where strangers become family on Saturday, April 12, at 3:30 p.m.  In advance of the event, we encourage people to upload their diverse family images to Instagram at #1World1Family and #Blgbtfilm.